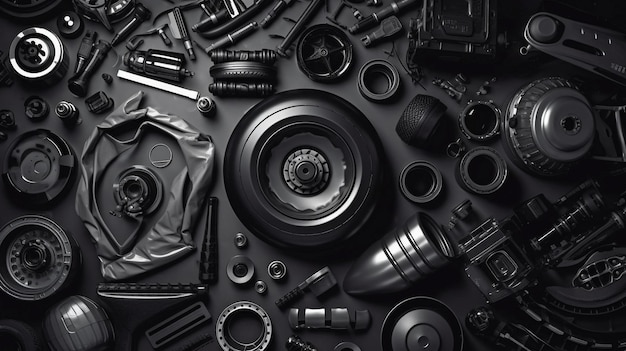 Is your automotive parts manufacturing business operating without an ERP (Enterprise Resource Planning) system? If so, you might be missing out on a competitive edge in an industry that demands precision, efficiency, and adaptability. In this comprehensive guide, we will delve into the significance of an ERP system for automotive parts manufacturing and introduce you to Piculets Solutions, a leading SAP certified partner headquartered in Bangalore, India. Piculets Solutions offers SAP Business One ERP implementation and support services across Pan India, empowering automotive parts manufacturers to streamline their operations and accelerate their growth.
The Imperative Role of ERP in Automotive Parts Manufacturing
The automotive parts manufacturing sector is characterized by complex processes, tight production schedules, stringent quality standards, and fluctuating demand. Without an integrated ERP system, manufacturers often face challenges such as:
Inefficient Production: Manual processes and disconnected systems can lead to production bottlenecks, delays, and increased costs.
Inventory Woes: Managing the vast array of automotive parts efficiently can be a daunting task without proper inventory control and tracking capabilities.
Quality Control: Meeting and maintaining strict quality standards is challenging when you lack real-time visibility into production and quality control processes.
Demand Variability: The automotive industry is influenced by ever-changing market demands. Without a flexible system, it's difficult to adjust production accordingly.
Data Silos: Information is scattered across departments, making it challenging to access, analyze, and make informed decisions.
SAP Business One ERP: Transforming Automotive Parts Manufacturing
Features of SAP Business One ERP
1. Unified Data Integration:
SAP Business One ERP centralizes data from various departments, providing a single source of truth for all stakeholders. This integration ensures decision-makers have real-time access to critical information.
2. Production Optimization:
With advanced production planning and scheduling tools, manufacturers can optimize their operations, reduce lead times, and ensure on-time deliveries.
3. Inventory Management:
Track automotive parts inventory accurately, reduce excess stock, and prevent shortages with the system's inventory management capabilities.
4. Quality Control and Traceability:
Ensure compliance with quality standards through comprehensive quality control features, along with traceability that allows you to monitor and recall parts if needed.
5. Robust Reporting and Analytics:
SAP Business One offers customizable reporting and analytics, helping manufacturers maintain compliance, monitor performance, and identify areas for improvement.
Advantages of SAP Business One ERP
1. Enhanced Efficiency:
ERP automation eliminates manual data entry, reduces errors, and speeds up processes. This efficiency results in cost savings and enhanced productivity.
2. Real-time Visibility:
Real-time data and reporting give manufacturers insights into their operations, enabling better decision-making and proactive problem-solving.
3. Scalability:
SAP Business One is designed to grow with your business. As your automotive parts manufacturing operations expand, the ERP system can accommodate increased data, users, and complexity.
4. Cost Control:
By optimizing inventory, production, and resource allocation, you can control costs and allocate resources more effectively.
5. Customer Satisfaction:
Accurate order processing and on-time deliveries result in satisfied customers and repeat business.
Piculets Solutions: Your Trusted SAP Business One Partner
Now that you comprehend the transformative potential of SAP Business One ERP for your automotive parts manufacturing business, it's essential to know how to implement it. This is where Piculets Solutions comes into play.
About Piculets Solutions
Piculets Solutions is a Bangalore-based SAP certified partner with a profound expertise in SAP Business One. Their specialized team possesses extensive experience in implementing and supporting ERP solutions tailored to the automotive parts manufacturing industry.
Piculets Capabilities
Expert SAP Business One Implementation: Piculets Solutions follows the ASAP (Accelerated SAP) methodology recommended by SAP for ERP implementations. This structured approach ensures the efficient deployment of the ERP system in your manufacturing environment.
Comprehensive Support: Post-implementation, Piculets provides ongoing support to ensure your ERP system operates seamlessly. Their team of experts is readily available to assist with any issues or questions you may encounter.
Nationwide Coverage: Piculets Solutions offers services across Pan India, making it accessible to automotive parts manufacturers throughout the country.
Customized Solutions: Piculets understands that each automotive parts manufacturing business has unique requirements. They work closely with you to tailor the SAP Business One ERP to your specific needs, ensuring it aligns with your processes and objectives.
Training and Knowledge Transfer: Piculets doesn't just implement the ERP system; they also provide training to your staff, empowering them to use the software effectively and maximize its benefits.
In conclusion, SAP Business One ERP is a catalyst for enhancing the competitiveness and efficiency of your automotive parts manufacturing business. With Piculets Solutions as your trusted partner, you can confidently embark on this transformative journey, knowing that you have a dedicated and experienced team by your side.
Don't let your automotive parts manufacturing business run without the power of ERP.
Contact Piculets Solutions today to explore how SAP Business One can revolutionize your operations. Your path to improved efficiency, scalability, and customer satisfaction begins here.