In today's dynamic food and beverage industry, companies face a unique set of challenges. From supply chain management to product quality, compliance, and customer demands, the recipe for success is complex. That's where Piculets Solutions, an SAP Business One certified partner, steps in as the secret ingredient for achieving excellence. This robust Enterprise Resource Planning (ERP) solution is customized to meet the specific needs of the food and beverage sector.
Unifying End-to-End Operations
Piculets Solutions, in partnership with SAP Business One, excels at streamlining and unifying every aspect of your food and beverage business. Just as a chef creates a symphony of flavors, every element, from sourcing raw ingredients to production, quality control, and distribution, is harmoniously integrated into a single system. This seamless integration offers real-time insights, empowering you to track progress, identify bottlenecks, and make informed, data-driven decisions.
Ensuring Compliance and Quality Management
In the food and beverage industry, compliance with stringent regulations and maintaining high-quality standards is non-negotiable. Piculets Solutions, with SAP Business One, simplifies compliance management, tracking and managing regulatory requirements at every stage of your production process.
Quality management is an integral part of this system, enabling you to set and monitor quality benchmarks. If any deviation from these standards occurs, the system promptly sends alerts, ensuring immediate corrective actions. This level of control safeguards your brand against regulatory penalties and fosters a reputation for consistently delivering top-quality products.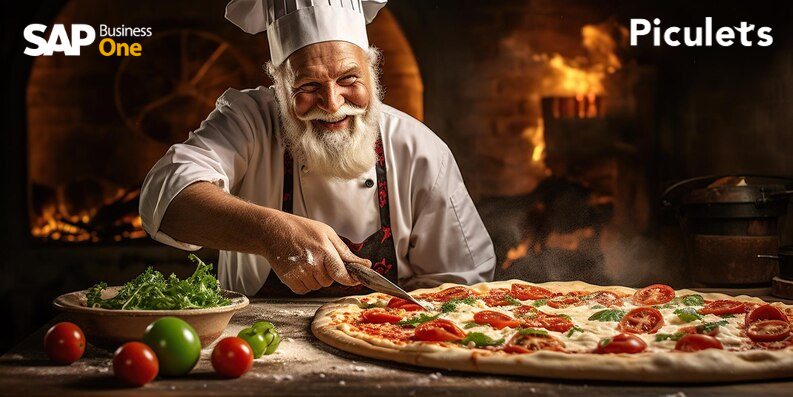 Precise Inventory Management and Traceability
Accurate inventory management is the cornerstone of profitability in the food and beverage sector. Piculets Solutions, in partnership with SAP Business One, provides real-time visibility into inventory levels and trends. This allows you to optimize stock levels, avoiding overstocking or running out of essential supplies. The system's forecasting capabilities further enhance inventory management, predicting demand patterns to keep your operations efficient.
Additionally, traceability is a critical feature, especially during a product recall. With Piculets Solutions and SAP Business One, you can trace the entire journey of a product, from raw materials to distribution. This capability is essential for swift action during recalls, safeguarding your brand's reputation.
Efficient Production Planning and Scheduling
Efficient production planning and scheduling are essential to optimizing resources. Piculets Solutions, powered by SAP Business One, offers a suite of tools for managing these critical processes. Demand forecasting, for example, allows you to anticipate fluctuations in demand and adjust production accordingly, reducing excess inventory and minimizing production delays.
Enhancing Supplier Relationship Management
In the food and beverage industry, the quality of your raw materials directly impacts the quality of your final products. Piculets Solutions, in collaboration with SAP Business One, aids in managing supplier relationships effectively. It provides insights into supplier performance, lead times, and pricing trends, allowing you to make well-informed choices when selecting and negotiating with suppliers.
Effective Financial Management and Reporting
Effective financial management is the backbone of every successful business. Piculets Solutions, as your trusted partner for SAP Business One, offers comprehensive financial tools to navigate your company's finances effectively. The system provides a holistic view of your financial health, from basic accounting functions to budgeting and financial reporting.
Real-time financial insights are a crucial feature. Decision-makers have access to up-to-date financial data, enabling them to make informed choices promptly. The system also streamlines financial reporting, enabling you to generate accurate reports for stakeholders, regulatory bodies, and internal analysis.
Additionally, the system's forecasting capabilities assist in budget planning, allowing you to create realistic budgets that align with your growth objectives.
Customer Relationship Management (CRM)
Maintaining strong customer relationships is a competitive advantage in an industry where brand loyalty is pivotal. Piculets Solutions, integrated with SAP Business One, centralizes customer information, tracks interactions, and analyzes preferences. This allows businesses to customize their offerings to meet customer needs effectively.
Unleashing Business Insights with Business Intelligence and Analytics
Data is a goldmine of insights. Piculets Solutions, in partnership with SAP Business One, recognizes this and incorporates robust business intelligence and analytics tools. These tools allow companies to extract valuable insights from their data, providing a comprehensive view of business operations, from sales trends to production efficiency.
Scalability and Adaptability
In the food and beverage industry, aspirations often revolve around growth. Piculets Solutions, with SAP Business One, is designed with scalability in mind. As your business evolves, the system can easily accommodate growth, whether it's adding new users, integrating additional modules, or expanding to new locations.
Conclusion
In the dynamic and demanding world of food and beverages, Piculets Solutions, in collaboration with SAP Business One, is the secret ingredient that empowers you to overcome unique challenges. With its comprehensive suite of features, it transforms your business, offering end-to-end visibility, ensuring compliance, optimizing operations, and facilitating data-driven decision-making.
Embracing this partnership positions you for sustained growth, increased competitiveness, and enhanced customer satisfaction. In a rapidly evolving industry, your collaboration with Piculets Solutions isn't just an investment; it's a strategic imperative. By choosing Piculets Solutions and SAP Business One, you're setting your food and beverage business on a path to efficiency, compliance, and prosperity.
Ready to elevate your business to the next level with Piculets Solutions and SAP Business One partner in Hyderabad?
Contact us at +91-9902324220 to explore how this partnership can transform your food and beverage operations.